Ivan Zakmardi of Dijankovec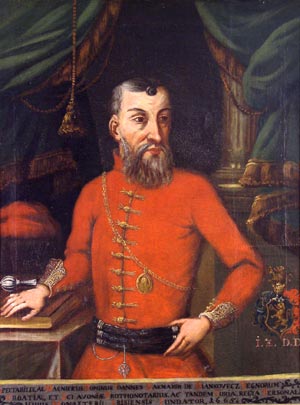 • Painting, portrait
• Material and technique: oil on canvas
• Originating from: 1665
• Author: unknown Pauline painter
• Dimensions: 117 x 90 cm
• Ivan Zakmardi of Dijankovec is thought to have been the founder of the Pauline monastery in Križevci.SPECTABILIS, AD NAGNIFICUS DOMINUS IOANNES ZAKMARDI DE DIANKOVECZ REGNORUM CROATIE. TE SCIAVINIAE PROTHONOTARIUS. AC' TANEM CURÍAE REGIA PERSONALIS HUIUS MONASTERII CRISIENSIS FUNDATOR. 1665.
• Ivan Zakmardi of Dijankovec (around 1600 - 1667) was born in Križevci. He finished the Jesuit Grammar School in Zagreb and graduated philosophy in Olomuc. He occupied the most prominent positions in Croatia: he was the vice-district-prefect of the Varaždin district and the Parliament appointed him prothonotary of the Kingdom of Croatia and ambassador in the parliament in Pozsony (Bratislava). He founded and presented with land Pauline monasteries in Olimje and Križevci. He died in Banjska Bistrica in 1667 and was then transported to Zagreb and buried in the Cathedral.