Head: Lana Okroša Rožić, curator
The permanent display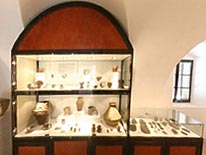 From its very beginnings the Museum strived to acquire archaeological material from the sites in the Križevci area. The first items were gathered by purchasing V. Dukić's collection. Dukić was a teacher and an amateur archaeologist who collected archaeological artefacts in the Apatovac and Dubovec area, where he worked. The first important archaeological excavations were closely related to professor S. Dimitrijević, Ph.D., who was researching the late Neolithic site of Brezovljani in 1973.

Z. Marković was hired as the first curator-archaeologist in the Križevci Municipal Museum in 1977 and in the very same year he took part in the excavations of a site of Vučedol culture in Apatovac.
The arrival of the archaeologist Z. Homen in 1978 intensified the research: in the late 1970s and 1980s he supervised the excavations of Aeneolithic sites of Lasinja culture in Beketinec, Bukovje and Grabovac, those of the late Bronze Age site of Križevci-Ciglana and the excavations of a medieval cemetery of Bijelo Brdo culture at the site of Popovec Kalnički. In the late 1990s he conducted protective excavations of a site in Glogovnica, where an apse of a 13th-century Romanesque church was discovered, together with remnants of the citadel complex of the Glogovnica collegiate church, torn down in the 16th century.

The Museum has a tradition of cooperation with similar institution when it comes to its field research. In 1987, for example, test excavations of a medieval cemetery of Bijelo Brdo culture in Obrežje Kalničko were carried out in cooperation with the Archaeological Institute. Between 1988 and 1990 the late Bronze Age site of Kalnik-Igrišće was researched in cooperation with the Department of Archaeology of the Faculty of Philosophy in Zagreb.
Lana Okroša Rožić joined the Museum team in 1999 as a curator-archaeologist and oversaw systematic research of the Neolithic site of Brezovljani. In 2003 she supervised protective excavations of a medieval site in Kamešnica, where remnants of a 13th-century Romanesque church were discovered.

The Archaeological Collection consists of material dating from different periods - ranging from the New Stone Age (Neolithic) to the late Middle Ages - acquired through archaeological excavations or as pure chance finds.
The Museum is especially proud of its ceramic and lithic items dating from the prehistoric period. Neolithic items belong mostly to the Brezovljani type of Sopot culture and the Aeneolithic period is represented through the finds of Lasinja and Vučedol culture. Ceramic finds of the late Bronze Age are complemented with various examples of bronze jewellery and tools. Stone moulds used for casting bronze objects are of special interest. Exhibits belonging to the late medieval period are also numerous and include ceramic vessels, oven bricks, infantrymen's weapons and various iron tools.