Noble Marcel Kiepach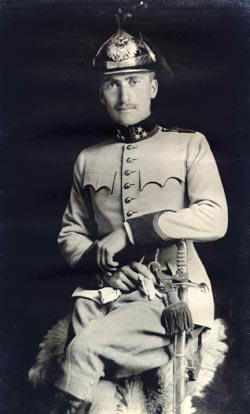 • Photograph of the noble Marcel Kiepach in his officer's uniform
• Material and technique: black and white photograph on paper
• Originating from: 1914/15
• Author: unknown photo-studio
• The noble Marcel Kiepach in his officer's uniform of the kaiserlich und königlich ensign in the 5th Ul. Regiment of the Austro-Hungarian army
• The squire family Kiepach moved to Križevci at the beginning of the 19th century. They lived on their property in the centre of Križevci until the 1950s, when the family property was confiscated and poverty made the noble baroness Marta Kiepach, the last offspring of the family, move to Vienna. The noble Marcel Kiepach (1984-1915) was the most famous member of the family. He was a passionate inventor, mostly in the field of electrical engineering. He was a volunteer in the First World War and died at the Russian front at the age of 21. The Museum acquired much of his documentation, as well as many family photographs and documents, which made it possible to put on an exhibition on the Kiepach family in Križevci in 2004.