Address: Sermageova 2,
48260 Križevci
Telephone: ++385/ 048/711-210,
682-958
Fax: ++385/ 048/711-210
E-mail: gmk@net4u.hr
URL: http://www.krizevci.net
Founder: the town of Križevci
Year of founding: 1952.
Type of museum:general-town museum
Area of the Museum and Gallery: 402 m²



Departments:Gallery of Fine Arts

Collections:
• Archaeological Collection
• Ethnographic Collection
• Sacral Collection
• Cultural and Historical Collection
• Technical Collection
• Numismatic Collection
• Postcards Collection
• Guild Collection
• The Town's Political Life Collection
• Old Arms Collection

Documentation Funds:
• Photo library
• Slide library
• Video library
• Sound library

Library: intended for guest users as well

Professional Staff:
• Zoran Homen, professor of archaeology, Museum manager, head of the Gallery of Fine Arts, Sacral Collection, Cultural and Historical Collection, and Technical Collection
• Melita Habdija, professor of ethnology, head of the Ethnographic Collection, Guild Collection, Old Postcards Collection, and The Town's Political Life Collection
• M.A. Lana Okroša-Rožić, professor of archaeology, head of the Archaeological Collection, Arsenal and Numismatic Collection


Opening Hours: Monday and Friday 10 a.m. to 1 p.m.
Tuesday, Wednesday and Thursday 10 a.m. to 7 p.m.
Saturday and Sunday 10 a.m. to noon;
Visits outside the opening hours are subject to prior arrangement
Admission Charges: Tickets: 10 HRK. Children, students (with a student's booklet), retired, groups (up to 5 people): 5 HRK

How to get there: Bus and taxi – mini-bus service from the train station to the town centre, where the Museum is located (price: 4 HRK per person)

Parking: parking facilities for personal cars and buses available in the proximity of the Museum

Video cameras and cameras: may be used if approved by a curator or the Museum manager.

Access for persons with special needs: partially provided; the Archaeological Collection is on the ground floor and can easily be accessed - there are no stairs or similar obstacles.

Professional guided tours: given by a Museum curator are provided for organized groups, if booked in advance.If required, tours can be given in a foreign language (German, English or French).

Integral part of the Museum:
ethno-park in theMuseum yard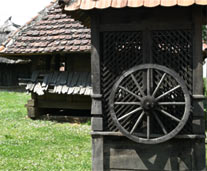 Gallery of Fine Arts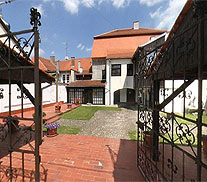 Križevci Municipal Museum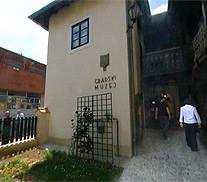 Integral part of the Museum:
ethno-park in theMuseum yard